How can smartwatches help your business grow? Discover the 6 benefits of investing in smartwatches for your employees and customers in this blog post.
Are you looking for unique corporate gifts for your employees and clients to show appreciation while boosting your business growth? Have you ever considered gifting them a smartwatch, especially a custom one with elements of your company?
Research has shown that tangible information can leave a more lasting impression on the brain, leading to better recall of memories. A custom smartwatch corporate gift is a perfect example of this type of tangible information.
Smartwatches have become increasingly popular over the years for good reasons. Offering a wide range of valuable features, they can benefit your business and enhance the overall experience of your employees and customers. By customizing a smartwatch as your corporate gift, you can effectively communicate your message and values to your employees and customers, while also making a long-lasting impact.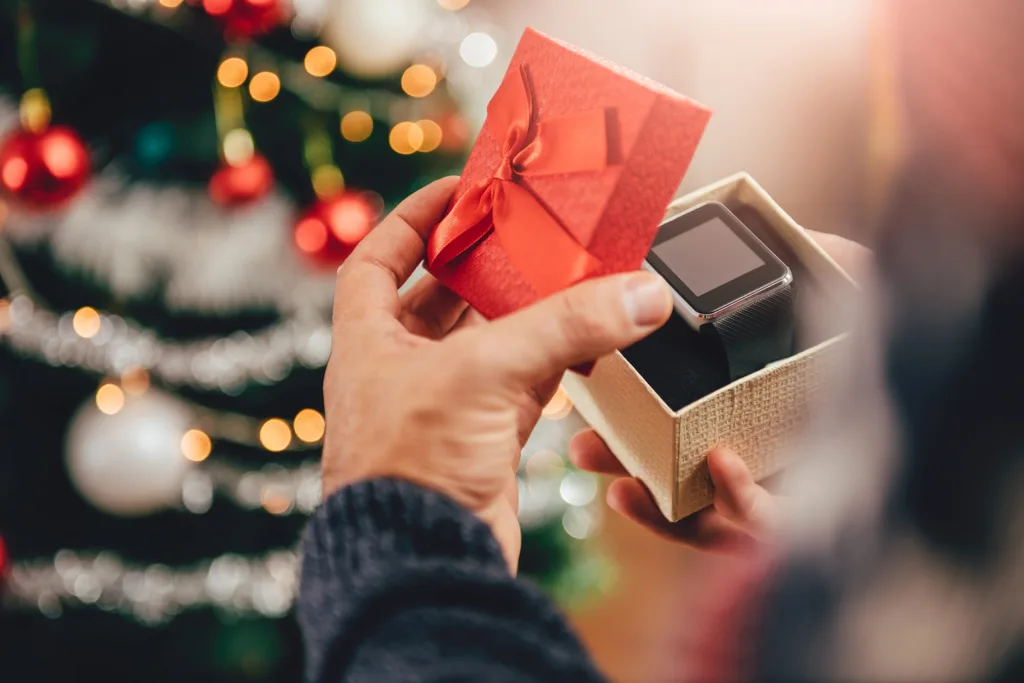 Here are the 6 top benefits of gifting smartwatches to your staff and customers:
Enhance Brand Image
Increase Engagement
Improve Time Management
Encourage Healthy Habits
Grow Appreciation and Loyalty
Optimize Productivity and Customer Service
As mentioned above, gifting smartwatches to your employees and customers can bring many benefits that can help your business grow. Here's a closer look at each of these benefits and how they can positively impact your business. First, let's start with the Brand Image.
Enhance Brand Image
Corporate gifting is an effective way to enhance your brand image and show your employees and customers appreciation. A unique and innovative custom smartwatch can take your gifting strategy to the next level and differentiate your business from competitors. It can be an excellent gift idea for business partners, employees, and customers.
Custom Smart Watch with Official Logos and Specific Messages
By customizing smartwatches with your company's logo or message, the smartwatch can serve as a constant reminder of your business and the value you provide, strengthening the relationship between you and your gift recipients. Personalized and sustainable corporate gifts can leave a stronger impression, enhancing the recipient's memory and brand associations. In addition, it can increase employee and customer loyalty and satisfaction, as well as positive word-of-mouth referrals.
Use Case: 2022 World Cup Smart Watch Souvenirs
To create a more personalized and memorable experience for participants at the 2022 World Cup in Qatar, the organizer ordered custom smartwatches from Starmax as souvenirs for volunteers, official staff, and guests. These smartwatches provide various practical benefits for recipients, such as checking the time, staying connected with notifications, and monitoring health and fitness.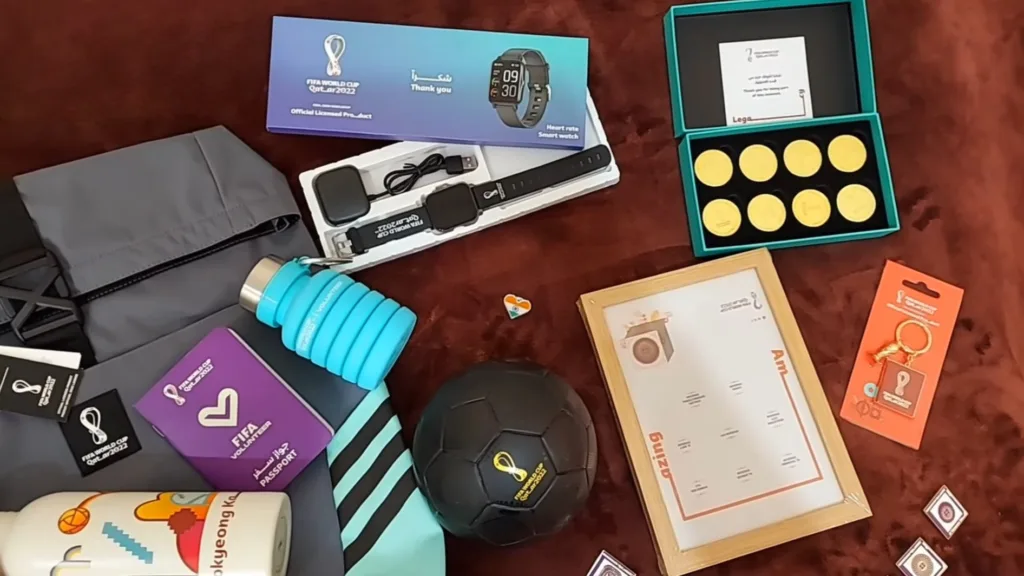 But beyond their practical functionality, these custom smartwatches carry a more profound value for both the event organizer and recipients. For the organizer, smartwatch souvenirs serve as a lasting symbol of gratitude and appreciation. At the same time, for recipients, these smart watches can evoke their passionate memories of watching football matches in Qatar.
By gifting these customized smartwatches, the event organizer can create stronger emotional connections with attendees, leaving a lasting impression that goes beyond the event itself. You can find positive reviews online for these 2022 World Cup smartwatch souvenirs made by Starmax. More details can be found in the 2022 World Cup souvenir smartwatch case study.
Increase Engagement
Smartwatches offer a fun and interactive way for employees and customers to engage with your business. For example, employees can reward frequent customers, referral program members, and potential customers by sending thank-yous for attending events, thereby motivating visitors to finalize their purchases.
Use Case: Gym Membership Promotion and Community Building
Smart watches can be a powerful tool for gyms, keeping gym members and staff informed and connected. By sending real-time notifications and updates, gym managers can keep members on schedule for fitness classes and ensure staff can respond quickly to emergencies.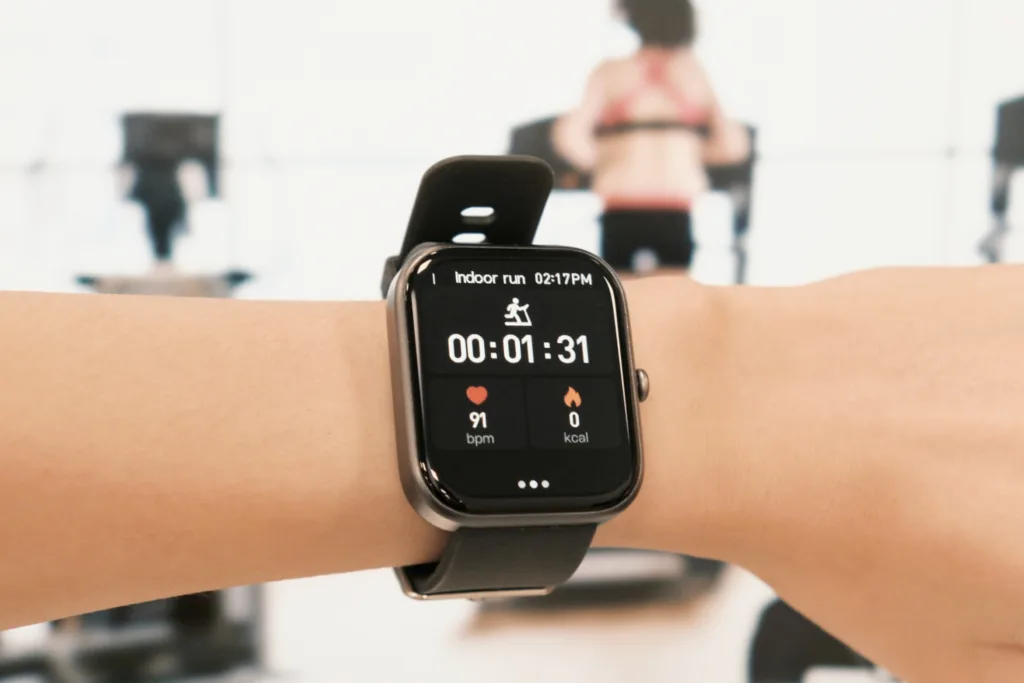 One effective way to encourage member engagement is to create challenges. For example, ask participants to track their fitness activity with the gym-gifted smartwatch. Gym staff can track the progress of challenges and reward members with discounts, trial classes, physicals, and more.
Staff could also encourage members to share their experiences with products, coaches, or classes on social media, which can help create a sense of community among employees and customers. By leveraging the power of smart watch gifts, gym managers can motivate and engage members in exciting new ways for a better gym experience.
Improve Time Management
Smartwatches can be an excellent tool for time management and productivity. With plenty of features and apps, smart watches can help employees and customers manage time and tasks more efficiently right on their wrists. As a result, it can help improve efficiency and productivity and reduce stress and fatigue.
Use Cases: Incorporate Your Brand into Everyday Life
Your smartwatch gift can become a valuable tool in the day-to-day work of your employees and customers, helping them better manage their time and schedules. As they use the smartwatch, they'll be reminded of your brand and thoughtful gift to foster loyalty and appreciation.
Use Case 1
Some smartwatches have productivity apps that allow users to create to-do lists and set reminders for important tasks. Customers and staff can use the apps to manage their schedules and appointments, which can help them stay organized and avoid missing important deadlines.
Use Case 2
In addition to to-do lists and reminders, some smartwatches can provide notifications and reminders to check on specific tasks, deadlines, or goals. It allows users to easily track their task progress and receive feedback on their performance.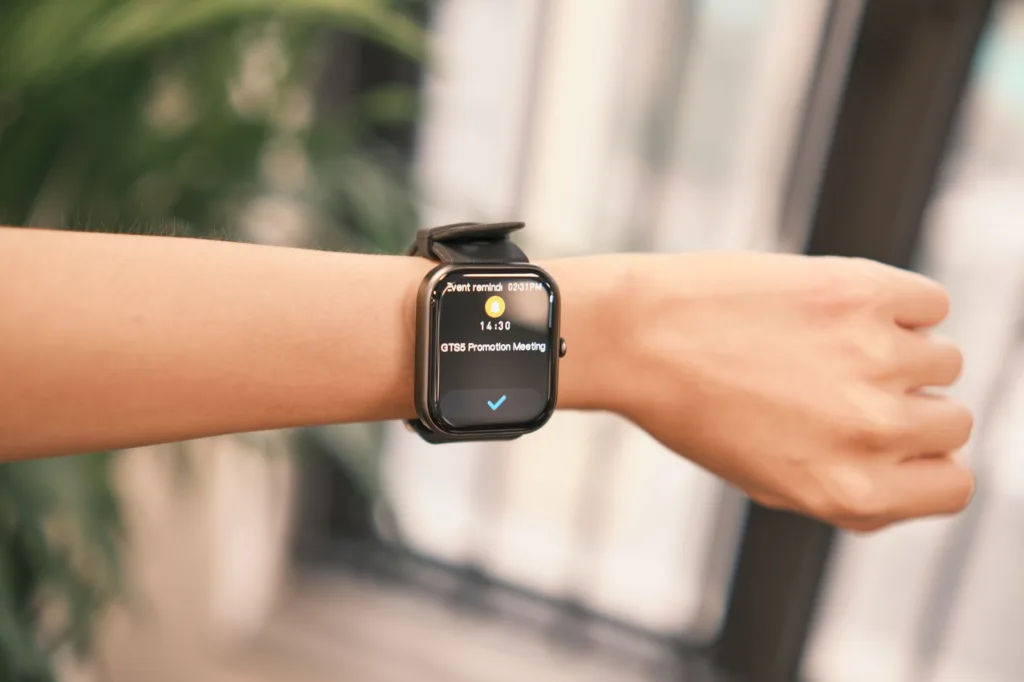 Starmax's GTS5 is a smart watch that perfectly fits this need. It has an event reminder function allows you to set reminders for important events such as birthdays, meetings, and appointments. With its perfect combination of style and functionality, the GTS5 is a great gift option for your employees or customers.
Smartwatch gifts can increase employee productivity and efficiency by properly managing schedules and appointments. Customers also benefit from staying organized and receiving timely feedback, leading to a positive experience and increased customer loyalty.
Encourage Healthy Habits
Many smartwatches have health and fitness tracking features like step tracking and heart rate monitoring. Encouraging healthy habits among your employees and customers can boost their morale and positively impact their overall well-being.
Use Case 1: For Employee Benefits
To get your employees on board, encourage them to use their smartwatches to track health metrics. Therefore, you can identify areas where the health and wellness programs can be improved, as well as offer personalized coaching or training sessions to support your employees' individual health goals.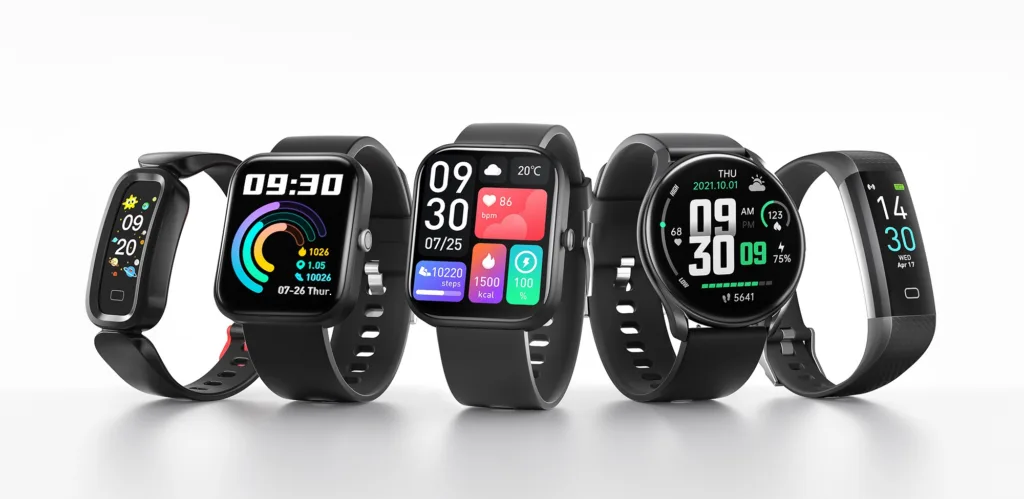 Starmax provides a diverse selection of fitness bands and health-monitoring smartwatches. With advanced technology, Starmax's smart watches accurately track various health and fitness metrics, such as heart rate, sleep quality, and physical activity. So whether you're looking for well-being improvement or fitness tracking, Starmax has a product to suit your needs.
Use Case 2: For Customer Benefits
In addition to employee benefits, incorporating smartwatch health tracking into your customer loyalty program can attract health-conscious customers. For example, you can offer exclusive discounts or rewards for customers who reach certain fitness milestones or participate in health-related challenges using smartwatch gifts.
By promoting healthy habits among employees and customers, you can create a culture of wellness that positively impacts your entire business. In addition, it can help differentiate your brand and attract new customers who value health and wellness, ultimately leading to increased business success.
Optimize Productivity and Customer Service
Smartwatches are a versatile tool for improving productivity and customer service within your business. You can streamline communication and provide timely customer service by gifting your employees and customers with smartwatches.
Use Case 1: Real-Time Customer Feedback Collection and Analysis
To maximize the benefits of smartwatches, encourage your employees to use smart watches to collect real-time customer feedback and reviews, such as surveys, quick polls, or even messaging apps. By leveraging the convenience and mobility of smartwatches, you can ensure that your feedback collection process is efficient and seamless.
After collecting data from your employees, you can analyze the data to identify areas for improving business operations, customer service, or new products/services. By taking a data-driven approach, you can make informed decisions to help your business grow and thrive.
Use Case 2: Efficiency on the Go with Hands-free Bluetooth Calling
Furthermore, some smartwatches have features such as voice-to-text messaging and hands-free calling, which can increase productivity and efficiency for users who need to communicate on the go. This can be particularly useful for employees and customers who work remotely or travel frequently.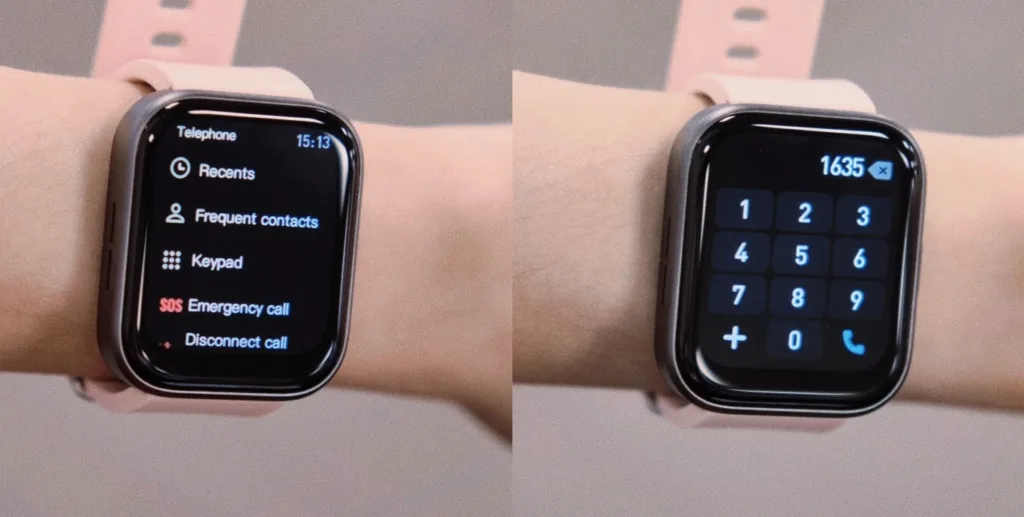 Starmax offers three smartwatches with hands-free Bluetooth Calling: GTS3, GTS4, and GTS5. With Bluetooth calling, users can answer calls without taking out their phones, making it easy to keep in touch while on the go. In addition to Bluetooth calls, the three watches are also equipped with powerful functions such as health monitoring and fitness tracking, making life more convenient and efficient.
With the benefits of smartwatches promoting healthy habits and improving communication, companies can create a culture of wellness and efficiency that can positively impact overall business success.
Grow Appreciation and Loyalty
By gifting smartwatches, you demonstrate to your employees and customers that you value their happiness and satisfaction. In addition, it can increase loyalty and positive word-of-mouth advertising, helping you attract new customers and employees.
By gifting smartwatches, you demonstrate to your employees and customers that you value their happiness and satisfaction. In addition, it can increase loyalty and positive word-of-mouth advertising, helping you attract new customers and employees.
To make your smartwatch gifting program more impactful, consider customizing the smartwatches with your company logo or a personalized message. It can create a sense of brand pride and ownership and promote your brand to a broader audience.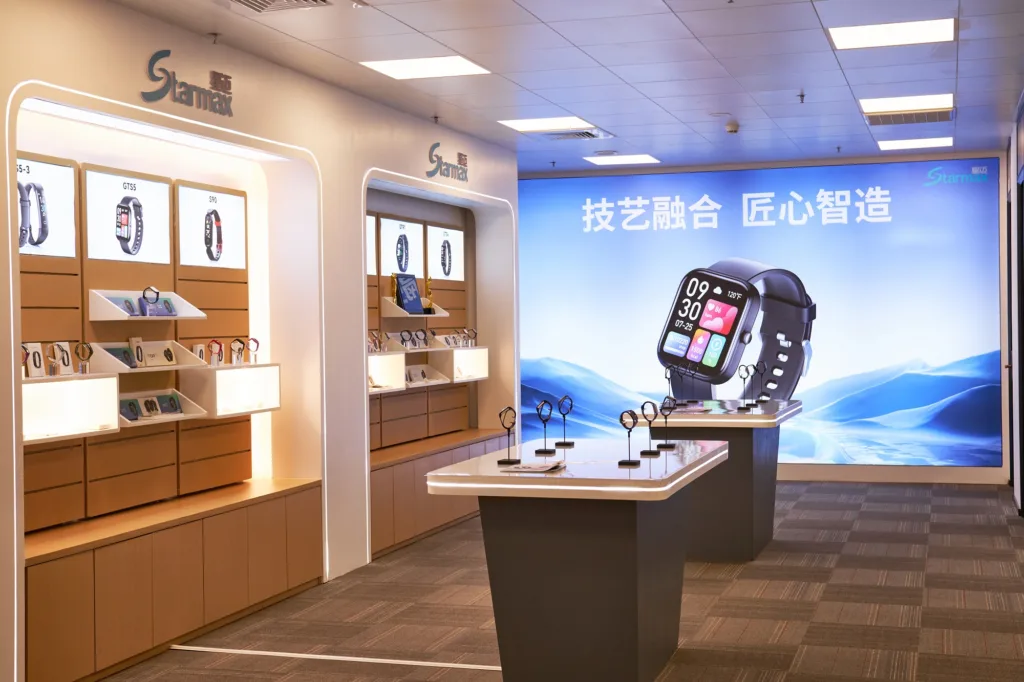 Starmax provides OEM/ODM and full case customization to fit the specific branding needs of our clients. Customization options include strap color, logo engraving, and even personalized messages on the smartwatch face or strap, ensuring your brand is always visible to your customers.
Conclusion
In conclusion, gifting smartwatches to your employees and customers can be an effective strategy to show gratitude and build stronger relationships. With the ability to customize the features and design of the watches, you can create a unique and memorable gift that reflects your brand values and resonates with your recipients. Whether it's a corporate holiday gift, employee appreciation gift, event keepsake, or business gift, a custom smartwatch is perfect for any occasion.
By giving smartwatches as gifts, you can create a sense of community around your brand and enjoy a range of benefits for your business. If you need help with personalized smartwatch gift ideas, please get in touch with the Starmax Sales Team for expert solutions.