Certifications & Qualifications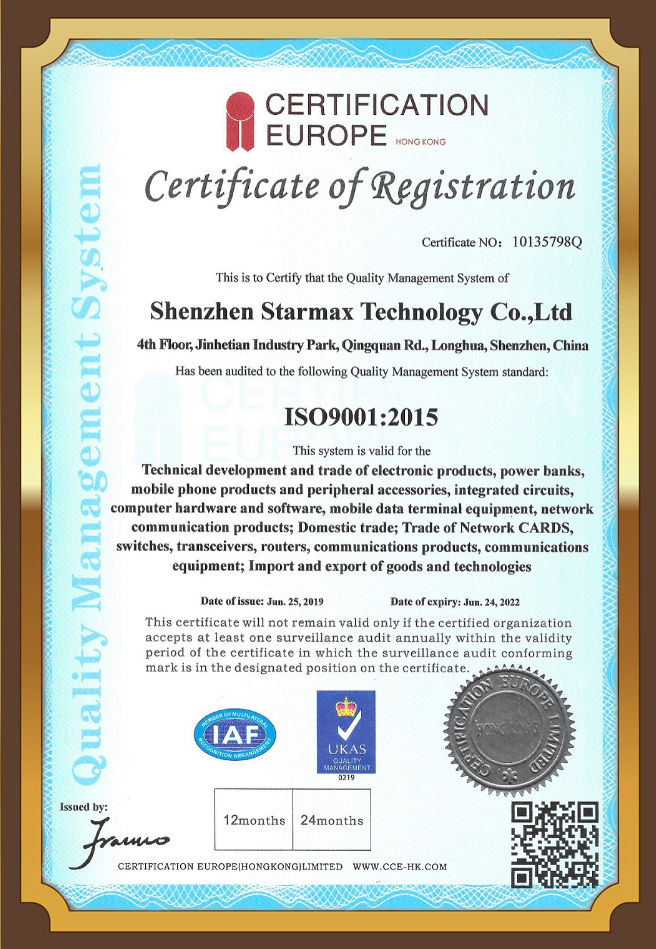 ISO 9001 is the international standard specifying requirements for a quality management system (QMS). Organizations use the standard to demonstrate the ability to consistently provide products and services that meet customer and regulatory requirements.
All Starmax products comply with the ISO9001 quality management system standard.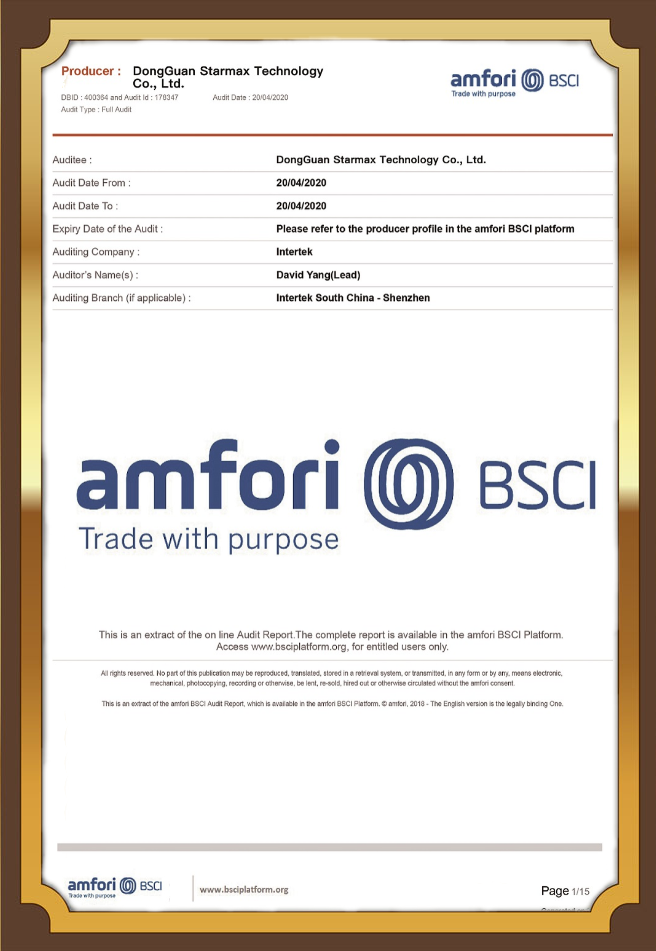 The Business Social Compliance Initiative (BSCI) is a top-tier supply chain management system that encourages social compliance and progress in factories and farms within global supply chains, aiming to monitor and evaluate workplace standards worldwide.
Starmax Technology has been certified by BSCI since 2022, indicating our long-term commitment to social responsibility.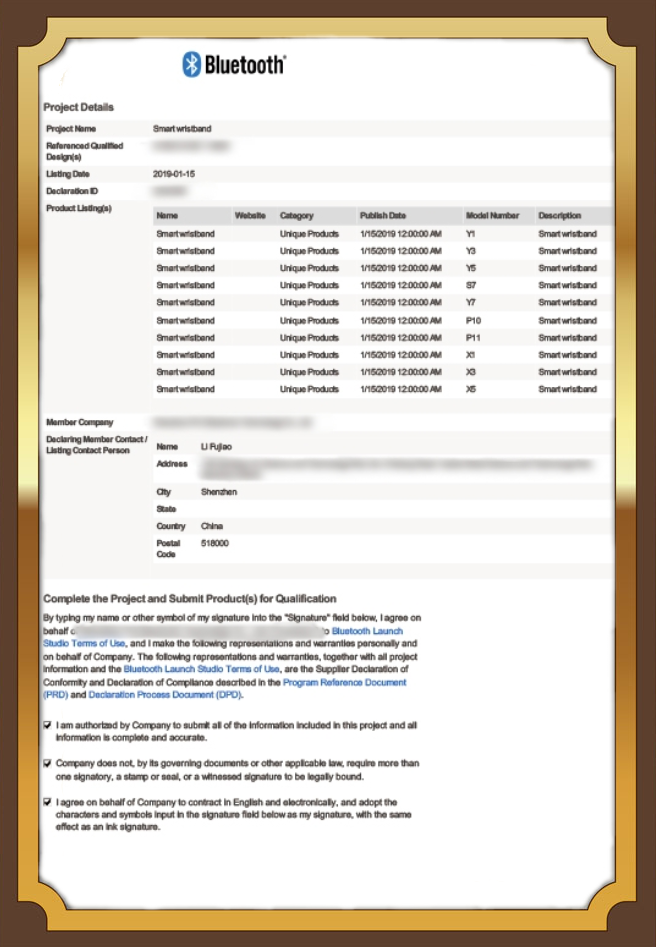 Starmax's smartwatches have been granted Bluetooth certification by the Bluetooth Certification Body (BQB), verifying their Bluetooth capabilities.
Bluetooth Certification is mandatory for products with Bluetooth function and the Bluetooth logo marked on their appearance. The BQB is responsible for ensuring that Bluetooth products meet the necessary standards for quality and functionality.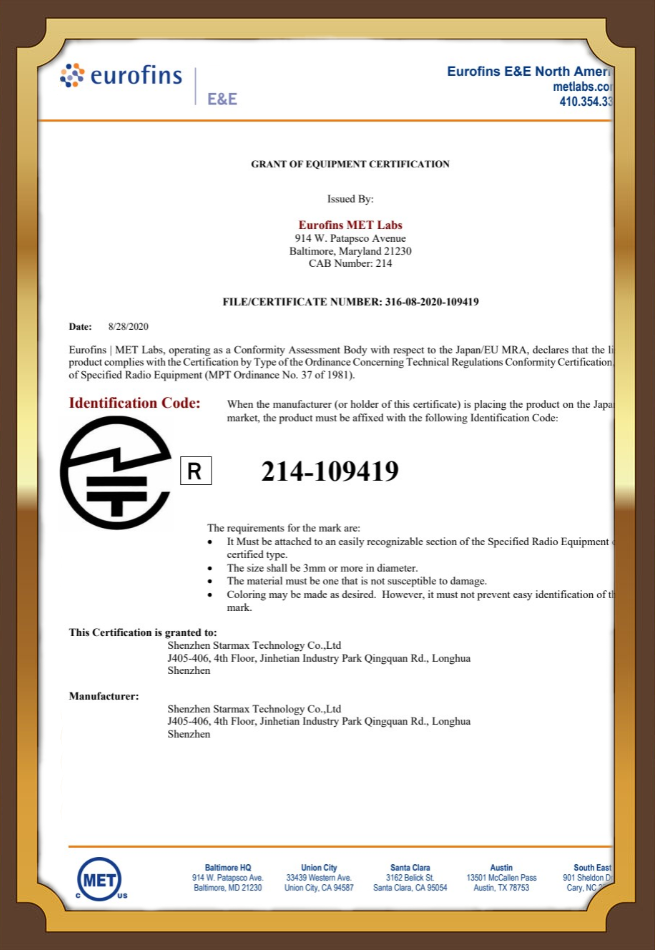 Starmax's smart watches are certified by the globally recognized Eurofins Electrical and Electronics (E&E) for product quality and energy efficiency, ensuring our smart watch products meet global market standards.
Eurofins E&E is a global network of accredited test laboratories. They provide electronic compliance testing, inspection, and certification services.
Starmax's products have further obtained multiple certifications, such as CE, RoHS, and FCC, ensuring compliance with relevant standards and regulations.
The CE mark confirms compliance with European requirements, while the FCC mark indicates US use approval. Additionally, the RoHS certification ensures that the electronic item is free from hazardous substances, primarily adhering to European standards.
Starmax's smartwatch products have also received additional certifications, including the India BIS Certificate, Japan PSE (Circle) Certificate, Japan Radio Type Approval, and Japan Radio Equipment Certificate of Conformity.
The PSE (Circle) Certificate is mandatory for non-specified or Category B products in Japan, while the radio equipment conformity certification ensures compliance with technical standards established under the Radio Act of Japan. The Bureau of Indian Standards (BIS) certificate is required to launch or import products into the Indian market.
Please use the form to let us know details about what you need.

We will reply in 1 day.

After filling out the form, you will be redirected to the catalog download page.
Let's talk directly. Call with our expert sales team to discuss your project. (Meetings take place in English)