Introduction:
Health and fitness tracking has become a significant aspect of wearable technology. As a result, smartwatches have become increasingly popular among those looking to monitor their fitness goals. In this report, we will take a closer look at the GTS2 smartwatch from Starmax, and evaluate its performance and the accuracy of the tracking indicators, such as heart rate, steps, body temperature, and blood oxygen levels.
It is essential to remember that GTS2 is not intended to replace professional medical devices or advice. While the GTS2 can provide general health insight, it is not a substitute for the expertise of a healthcare professional. Therefore, users should consult a doctor or other medical professional to diagnose and treat health-related concerns.
GTS2 Smart Watch Basic Information:
The GTS2 Smart Watch is a sleek and stylish watch boasting various features. The basic parameters, health monitoring features, and fitness tracking functions of GTS2 are listed below.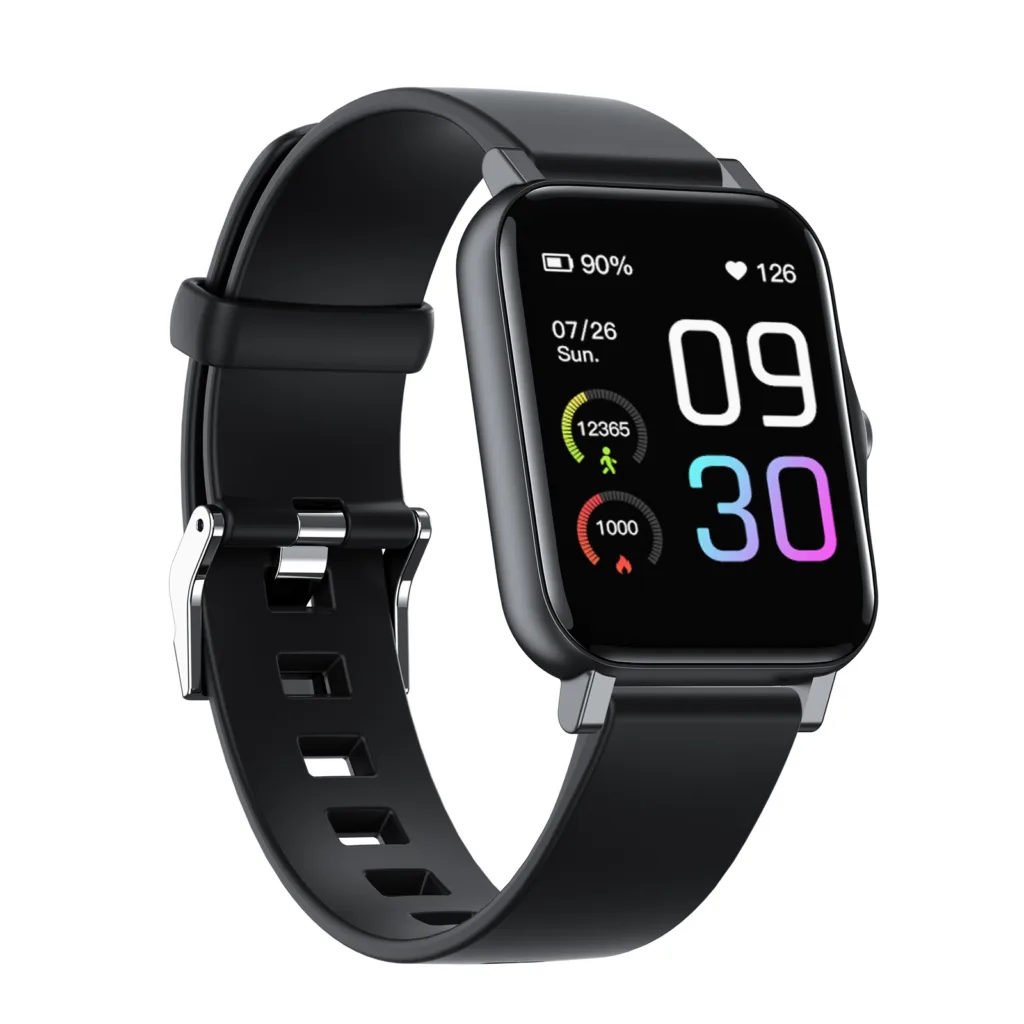 Basic Parameters
Display: 1.69-inch HD TFT screen
Resolution: 240*280, RGB
Touch Screen: full-screen multi-touch screen
Battery: Built-in rechargeable 230mAh Li-Polymer
Connectivity: Bluetooth 5.0
Flash Memory: 64MB
System Requirements: Android 4.4, iOS10.0 and above
Health and Wellness
Heart Rate
Blood Oxygen Saturation
Blood Pressure
Body Temperature
Breathing training, Stress monitor, Sleep monitor, MET, etc.
Sports and Activity
Steps, Calories, Distance
100 Sports Modes
Method:
We conducted accuracy tests on the Starmax GTS2's health metric measurements and sports and activity tracking features, in a controlled environment for a week. We included medical-grade devices such as the Yuwell YX303 finger-clip pulse oximeter and infrared thermometer to establish a baseline for our tests. Then, we compared the readings of the GTS2 to those of the medical-grade device.
To evaluate the GTS2's ability to track different metrics, we conducted the tests during various activities, such as running, walking, and cycling. In addition to the baseline device, we also included other smartwatch brands in our tests as references.
Baseline
Yuwell YX303 Medical-Grade Finger-Clip Pulse Oximeter
Medical-Grade Infrared Thermometer
Steps Counting Reference
Tested Devices
Tested Features
Heart Rate
Blood Oxygen Saturation
Wrist Skin Temperature
Steps
Accuracy Test:
We carefully monitored and recorded the results of each tested feature, in order to provide an accurate evaluation of the GTS2's overall performance. All test data used in this report are sourced from Starmax Laboratories.
Heart Rate
We tested the GTS2 smartwatch's heart rate monitoring accuracy in various scenarios: at rest, after 5 and 10 minutes of walking, and after 5 and 10 minutes of running. The results showed that the resting heart rate measured by the GTS2 smartwatch remained relatively stable throughout the test period.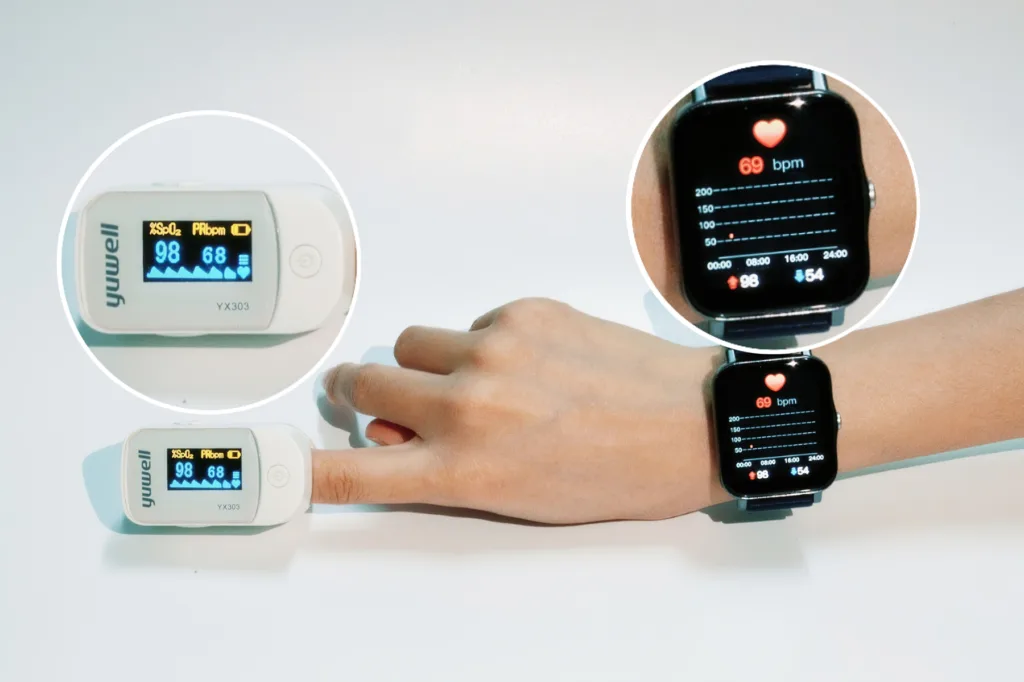 We compared the GTS2's readings with the Yuwell YX303 and found a maximum deviation of 4 bpm, as shown in the figure below. Therefore, the measurement results are considered to be relatively accurate.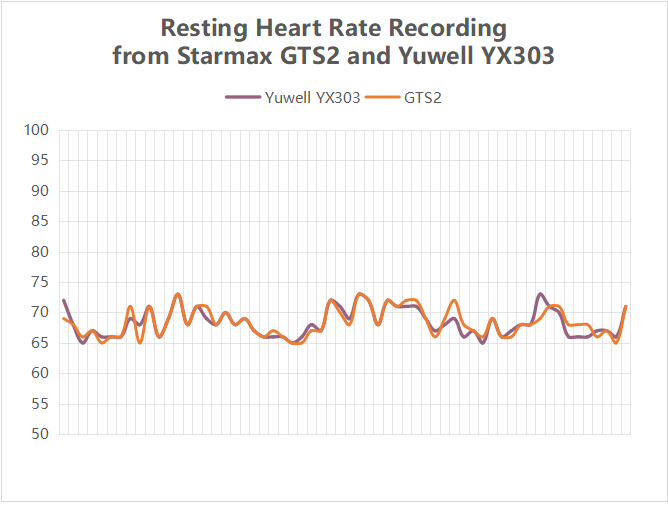 However, if you feel discomfort, please seek expert medical guidance instead of relying solely on GTS2 SpO2 readings for more accurate results.
Blood Oxygen Saturation
To evaluate the blood oxygen saturation accuracy of GTS2, we conducted tests at different times of the day: morning, noon, and evening. For each period, we wore both the GTS2 and the Yuwell YX303, and conducted 20 tests for each device.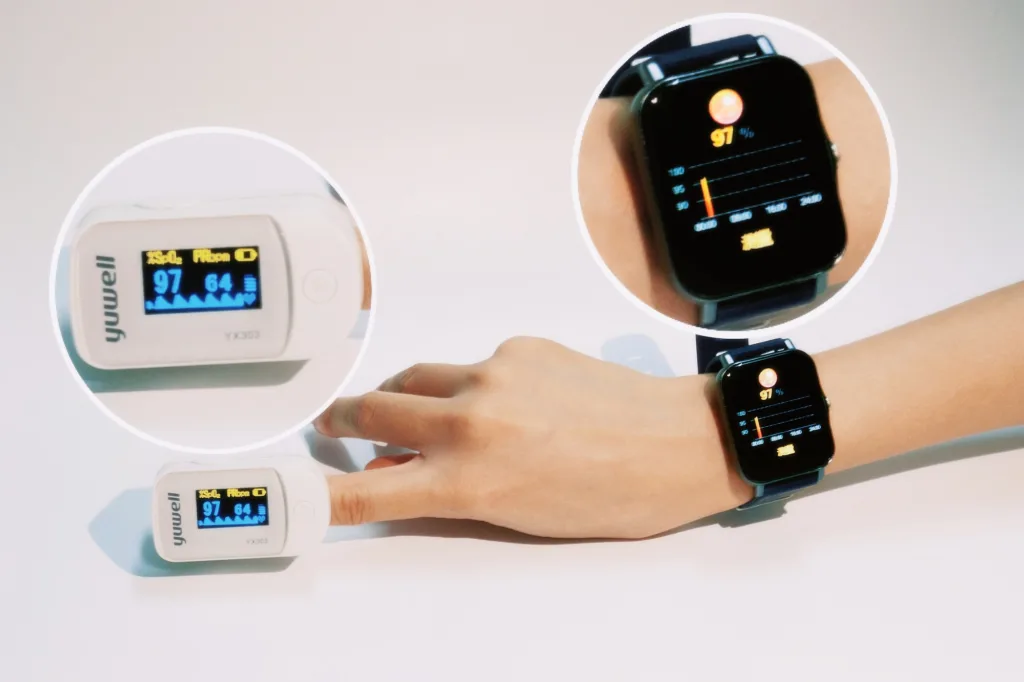 The results showed that the GTS2 provided relatively accurate blood oxygen saturation (SpO2) readings, with a maximum deviation of less than 1% compared to the Yuwell YX303. Additionally, the GTS2's SpO2 monitor provided SpO2 readings within an average of 7 seconds.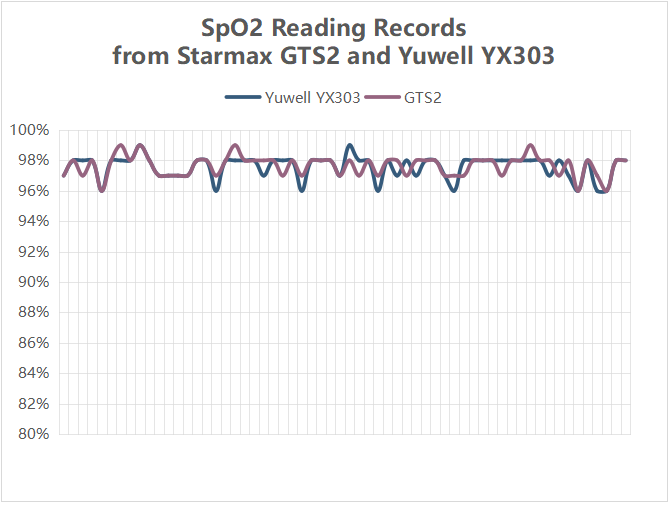 Please consult a professional medical practitioner, especially in discomfort, for more accurate results.
Wrist Skin Temperature
To evaluate the accuracy of the GTS2 wrist skin temperature measurements, we conducted 15 indoor and 15 outdoor tests and compared the results to those obtained from a medical-grade infrared thermometer.
The comparison showed that the GTS2's temperature readings were highly accurate, with negligible errors compared to the reference device. All records are provided in the following figure: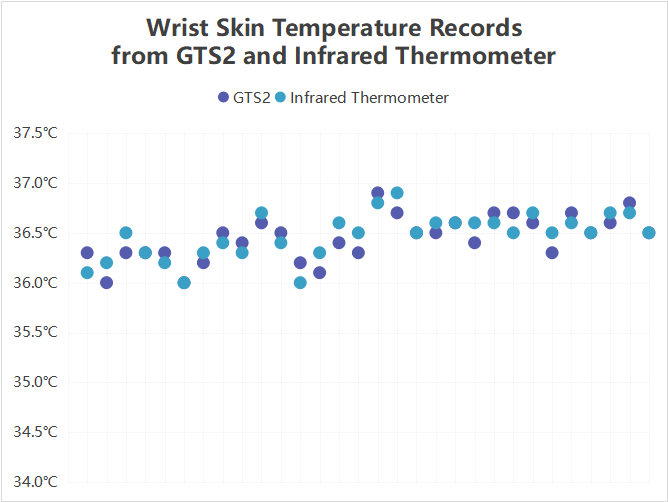 Despite the high accuracy of the GTS2, it is essential to note that it is not a professional medical device. Therefore, the temperature readings are for reference only and should not be relied upon as the sole source of information. If a medical condition is suspected, seeking professional medical advice for precise temperature readings and treatment recommendations is highly recommended.
Steps
To test the accuracy of step counting of the GTS2, we conducted step counting tests of 500, 1000, 3000, 5000, and 10000 steps in various scenarios, such as walking, running, and daily activities. We also used an Apple Watch as a reference.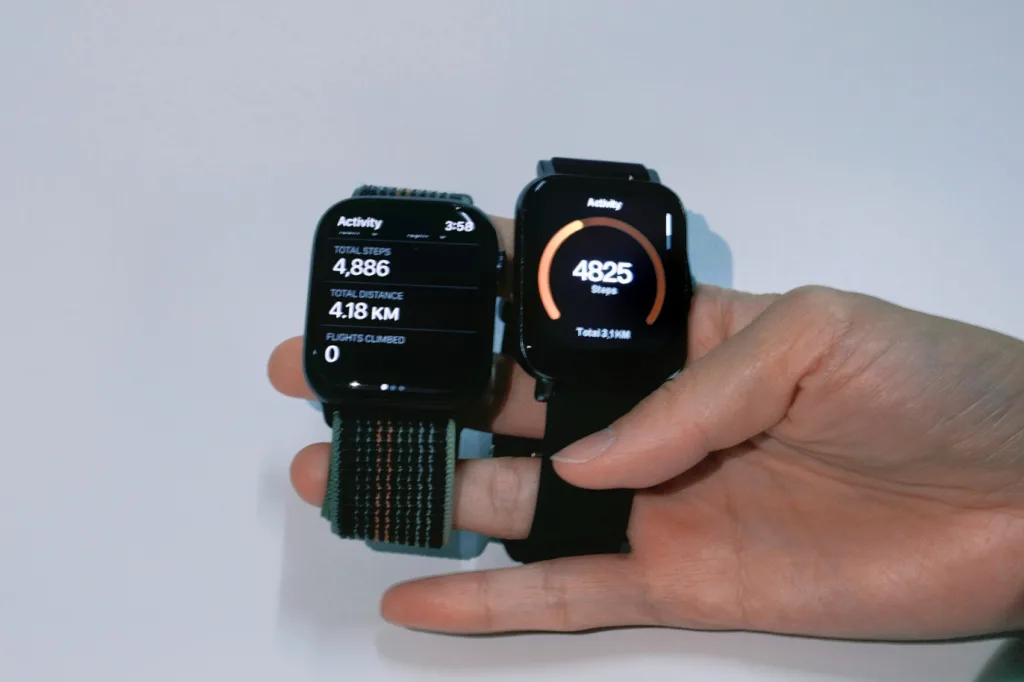 The results showed that the GTS2's step-counting function was nearly as precise as the Apple Watch's. But we still found that the GTS2 sometimes overestimates steps during activities involving a lot of arm movement, such as carrying groceries or pushing a stroller.
Battery Life
A critical aspect of a smartwatch is its battery life. The GTS2 smartwatch is equipped with a built-in 230mAh lithium polymer rechargeable battery. It takes about 2.5 hours to fully charge the GTS2 with the original magnetic charging cable. According to data from Starmax Labs, the battery life of GTS2 under different usage conditions is as follows:
Daily use mode: up to 13 days
Heavy use mode: up to 6 days
Basic standby mode: up to 45 days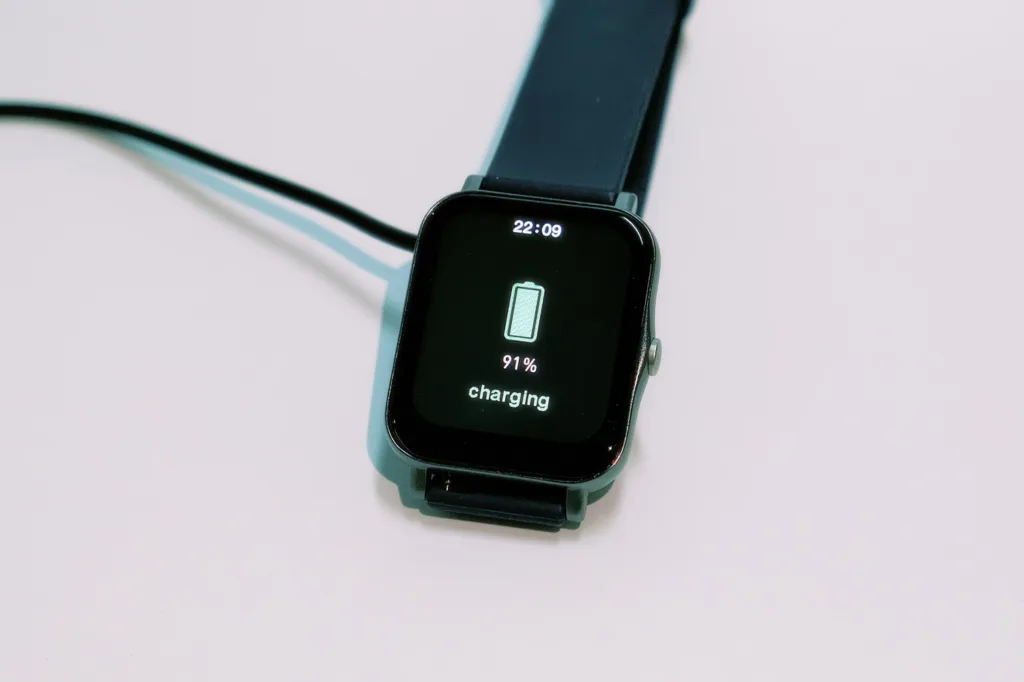 Overall, the GTS2's smartwatch battery life is impressive, with excellent battery life in different usage situations. The long-lasting battery of the GTS2 allows users to wear it all day and choose different modes to suit their usage needs, without worrying about constant charging.
Results:
Our tests revealed that the GTS2 smartwatch provides relatively accurate readings for most health and fitness metrics, with only minor variations from the reference devices.
Discussion:
The GTS2 smartwatch can be an effective tool for monitoring and tracking your fitness and health goals. While it may not offer 100% precise readings in every situation, it can give you a rough estimate of your activity levels and progress.
However, it is crucial to understand that the GTS2 from Starmax is not a substitute for a professional medical-grade device. Therefore, it is vital to listen to your body's signals, and consult your healthcare provider or physician about your health and fitness needs.
Conclusion:
If you're looking for a smartwatch that provides accurate health and fitness tracking, the GTS2 from Starmax is a solid choice. While it may not be perfect in every situation, it gives a lot of relatively accurate health measurements. As a result, it is recommended to use the GTS2 smartwatch as a supplementary tool alongside regular exercise and a healthy diet to achieve your fitness and health goals.
As with any device, it's essential to use GTS2 as your helpful tool and not rely on it entirely. By combining the data provided by the GTS2 with professional advice from doctors or healthcare givers, you can achieve great results and improve your overall health and wellness.
If you have any questions about GTS2 or other smart watches, please get in touch with Starmax's consultant team for more professional advice.